The Whisky Cabinet
Welcome to The Whisky Cabinet! What started as an idea by two friends (founders Art McIntosh and Terry Henson) sipping scotch one evening, has now grown to be Central Florida's premier whisky appreciation club.

We gather frequently for educational and highly entertaining whisky tastings. We focus primarily on presenting unique, limited, rare and sometimes last offerings of some very extraordinary whiskies.
It is highly likely that many of our selections will be new to you.

We welcome you to join The Whisky Cabinet and attend our tastings. Our events have been described as whisky shows, a tasteful whisky experience, and a wild-whisky adventure. Each event is a mixture of great whisky, education and entertainment; a great time is always assured. We encourage you to attend our next event - we're sure you won't be disappointed!
---
Cabinet News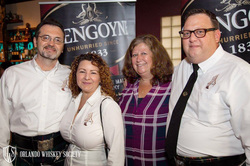 Whisky Cabinet is entering their 6th year!
The WC had its first tasting in September of 2011, and we are entering a milestone. In celebration and gratitude to all those who have been with us, past and present, we are extended last years membership through the end of 2015. From that point forward, our annual membership will be aligned with the calendar year (Jan-Dec).
As our membership continues to grow, TWC would like to give a big
THANK YOU
to all of our friends and supporters for making this a success.
Bourbon Too!
Although we have been serving and teaching about Scottish malt whisky for the past 6 years, we's steeped in bourbon whiskey and are purdy dang excited to bring you select bourbon tastings throughout the year. You will find the same premium level spirits at our bourbon tasting as you have grown accustomed to from our previous events. TWC takes months to locate and procure these limited and rare bourbons.
Our last several events have sold out as word seems to be spreading about our "little club"! You never know what's going to happen, who will show up or what special whiskies you will find at the next event. Mark your calendars for our next event, which will be at
Pilars
. Seating will start at 4:30 pm, so arrive early to check in and get settled, as the tasting will begin at 5:30 pm sharp
.
Seating is limited
,
so if you want to sit with a specific group, it is best to arrive early.
Pilars
is a great martini bar located in downtown Winter Garden, right next to the famous Garden Theatre.
Pilars, 146 West Plant Street, Winter Garden, FL 34787.
Our next regular tasting is December 1st
at Pilars
(SOLD OUT).
---